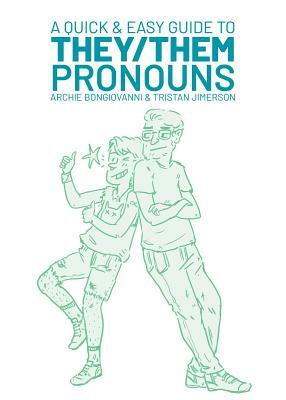 Recap
Keeping our focus on trans issues this week I thought I'd review one of my new favorite books, A Quick and Easy Guide to They/Them Pronouns. The book was written by genderqueer artist Archie Bongiovanni and Tristan Jimerson, a cisgender dude who wanted an easy guide for introducing gender-neutral pronouns to his diverse workplace.
The book covers several basics of learning about gender-neutral pronouns. Starting from the basics of what a pronoun is. They go then goes into why pronouns are important with a particularly good section on misgendering dealing with issues such as the reasons misgendering is important, how to respond when you misgender someone, as well as what misgendering feels like from the artist's lived experience. I also learned a very important thing that I didn't know while reading this book about language usage instead of saying which pronouns someone prefers you should ask which ones someone uses otherwise it's implying gender is a preference.
The book also does a great job just addressing the inherent idea of the gender binary in the world around us and how to keep all your co-workers and friends who may identify outside the binary safe.
Review
I'm personally getting to know someone who identifies outside the gender binary and I wanted to make sure I was up to date with what I needed to know about the topic. This book was incredibly interesting and informative. Some of it was review for me after working with social justice organizations, but some of it about the wording around using pronouns was new to me. Especially when it came to some neo-pronoun use.
I'm going to suggest this as required reading for my summer youth camp since we are having more non-binary campers and campers who use neopronouns. I'd love to see a book like this with more focus on neopronouns. They did include zir in this one but I'd like to be acquainted with more as well as the culture surrounding neopronouns.
Check it out here and add it to your TBR for Trans Rights Readathon this week.