Here we are, after a few weeks of waiting and announcements our Readathon finally begins! Now the signup will continue for ten more days for those of you who might have been a bit late to the party. Make sure to check out check out the Readathon account of Twitter @choppedread as this is where we will be making announcements.
Information and Important Links
Just in case this is your first time hearing or seeing about this Readathon or Chopped. No worries, no previous knowledge of either is needed this I will list all our important links below. The sign up sheet is here. If have no idea what about something please feel free to ask either @TheBlindScribe or myself @PlaidReader, but you might want check these links first as they answer basic questions For example the Readathon begins today and goes through the 28th.
We are loosely based on the American cooking game show Chopped. But knowledge of the show is not required. Basically you read a book based on basket ingredients during our three rounds and make meals after each round this is outlined more in these important documents Chopped 101 and Chopped: Meals Explained you may want to look at these documents if you haven't already before the beginning the readathon.
There is also a great version laid out here by one of participants @ReaderPenguin_ that lays out the prompts in a great way if you are a visual learner.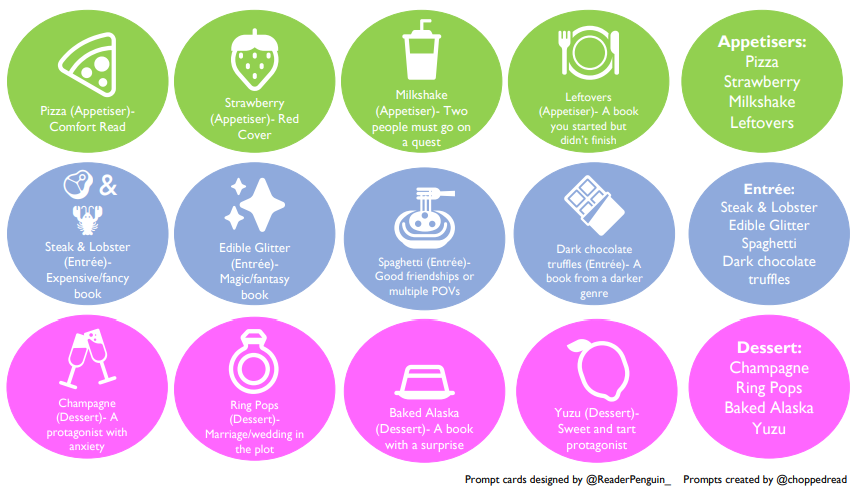 This is a great thing to reference if you don't feel like looking at all my charts.
Prizes For Readathon
Next is my favorite part prizes! I can't wait to see how the prizes shake out once this all begins.
As for point/pages we're going to be counting them just to see who gets a specific digital prize and a real one yet to be determined this goes to the person or persons if there is a tie who has read the most by the end of the readathon. You may log your points/pages here
Also the prize packages there are two, one for our US participants who will be getting a will getting signed copies of A Place at the Table and Long Lost. For the International Prize winner they will get $20 to Book Depository or the same amount off your Amazon Wishlist whichever is better for you. This prize will be randomly drawn.
There will also be digital prizes for everyone who participated!
Overall I hope you guys have a great time and @TheBlindScribe and I just want you to know to know we may say we're judges but we're really just here to support you and would love to see your TBRs or any work related to the readathon.