I promised you the Path or Pantheon TBR, I had a tough time choosing these books, some were easier than others, I thought I'd remind everyone of the path I chose: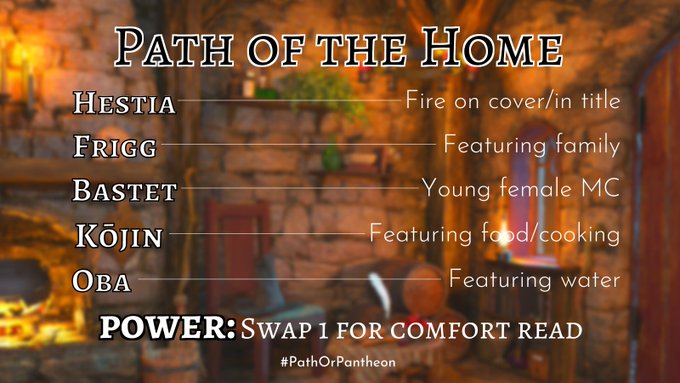 Hestia-Fire on the cover/in the title.
I'd been meaning to read this when I got it as arc. Time however got away from me and, it still looks like a great book though and I happy to have a specific reason to read it. Maybe I'll finally learn not to request too many books for on Netgalley lol.
The Firebird Song
The Kingdom of Lyrica was once warm and thriving, kept safe by the Firebird, whose feather and song was a blessing of peace and prosperity. But the Firebird disappeared, and Lyrica is now terrorized by the evil Spectress who wields her powers from within a volcano. All that remains is a mysterious message scrawled on the castle wall in the Queen's own hand: Wind. Woman. Thief.
Young Prewitt has only known time without the Firebird, a life of constant cold, as his village is afraid to tempt the volcano monsters with even the feeblest fire. But he has heard whispers that the kingdom's princess survived the attack . . . and he is certain that if he can find her, together they can save Lyrica.
Princess Calliope has no memories beyond living on her barge on the underground lake. But as she nears her twelfth birthday, she is certain there is more to life than the walls of a cave. When Prewitt finds her, he realizes that she is the missing princess: the only hope for Lyrica. Determined to decipher the meaning of her mother's strange message and find the Firebird, Calliope and Prewitt set off on a quest that puts them in more danger than either of them ever anticipated.
Frigg–featuring family
I've been a fan of this series since book one and it has strong family ties so it's perfect for this prompt. These books have been full of mystery, family and super fun riddles, and though I'm sorry to see the series end I can't wait to read the conclusion.
Summary
As book three of the Greystone Secrets series opens, the Greystone kids have their mother back from the evil alternate world, and so does their friend Natalie. But no one believes the danger is past.
Then mysterious coins begin falling from unexpected places. They are inscribed with codes that look just like what the Greystones' father was working on before he died. And with the right touch, those symbols transform into words: PLEASE LISTEN. And FIND US, SEE US, HELP US. . . .
The coins are messengers, telling the Greystones and their allies that their friends in the alternate world are under attack—and that the cruel, mind-controlling forces are now invading the better world, too.
After another spinning, sliding journey across worlds, the Greystone kids must solve mysteries that have haunted them since the beginning: what happened when the Gustanos were kidnapped, what created the alternate world, and how a group of mismatched kids can triumph once and for all against an evil force that seems to have total control.
Amazon: The Greystone: The Messengers
Baset–young female MC
I hadn't heard of the author of the book, but was going out for a rare visit to a doctor to pick up some books and spotted it and it sounded interesting. Now I'm glad I have a specific opportunity to read it.
Summary
Elin's family has an important responsibility: caring for the fearsome water serpents that form the core of their kingdom's army. So when some of the creatures mysteriously die, Elin's mother is sentenced to death as punishment. With her last breath, she manages to send her daughter to safety.
Alone and far from home, Elin soon discovers that she can communicate with both the terrifying water serpents and the majestic flying beasts that guard her queen. This skill gives her great power, but it also involves her in deadly plots that could cost her life. Can she save herself and prevent her beloved beasts from being used as tools of war? Or is there no escaping the terrible battles to come?
Kojin–featuring food/cooking
The sister book to Midsummer's Mayhem. This series of books are Shakespeare-inspired retellings with food, fun, and mystery.
Much Ado About Baseball
Twelve-year-old Trish can solve tough math problems and throw a mean fastball. But because of her mom's new job, she's now facing a summer trying to make friends all over again in a new town. That isn't an easy thing to do, and her mom is too busy to notice how miserable she is.
But at her first baseball practice, Trish realizes one of her teammates is Ben, the sixth-grade math prodigy she beat in the spring Math Puzzler Championships. Everyone around them seems to think that with their math talent and love of baseball, it's only logical that Trish and Ben become friends, but Ben makes it clear he still hasn't gotten over that loss and can't stand her. To make matters worse, their team can't win a single game. But then they meet Rob, an older kid who smacks home runs without breaking a sweat. Rob tells them about his family's store, which sells unusual snacks that will make them better ballplayers. Trish is dubious, but she's willing to try almost anything to help the team.
When a mysterious booklet of math puzzles claiming to reveal the "ultimate answer" arrives in her mailbox, Trish and Ben start to get closer and solve the puzzles together. Ben starts getting hits, and their team becomes unstoppable. Trish is happy to keep riding the wave of good luck . . . until they get to a puzzle they can't solve, with tragic consequences. Can they find the answer to this ultimate puzzle, or will they strike out when it counts the most?
Amazon: Much Ado About Baseball
Oba–featuring water
I love any of the books Molly Knox Ostertag puts out so it was no surprise this one was on my list. It looks beautiful so I'm ready for beauty as well as great content.
The Girl From the Sea
Fifteen-year-old Morgan has a secret: She can't wait to escape the perfect little island where she lives. She's desperate to finish high school and escape her sad divorced mom, her volatile little brother, and worst of all, her great group of friends…who don't understand Morgan at all. Because really, Morgan's biggest secret is that she has a lot of secrets, including the one about wanting to kiss another girl. Then one night, Morgan is saved from drowning by a mysterious girl named Keltie. The two become friends and suddenly life on the island doesn't seem so stifling anymore. But Keltie has some secrets of her own. And as the girls start to fall in love, everything they're each trying to hide will find its way to the surface…whether Morgan is ready or not.
So that's my list for the Path or Pantheon Challenge. Wish me luck with the challenge and if you are taking part share what Path or Pantheon you are joining .