So we've established I don't care for romance I mean ocassionally I'll read it, but you'll see why it isn't covered in the catagories below. I just couldn't find a book that fit, maybe one does and I don't know it yet, or maybe you all will know one and help me out so below is what I'm planning to read for the Autistic Pride Month TBR.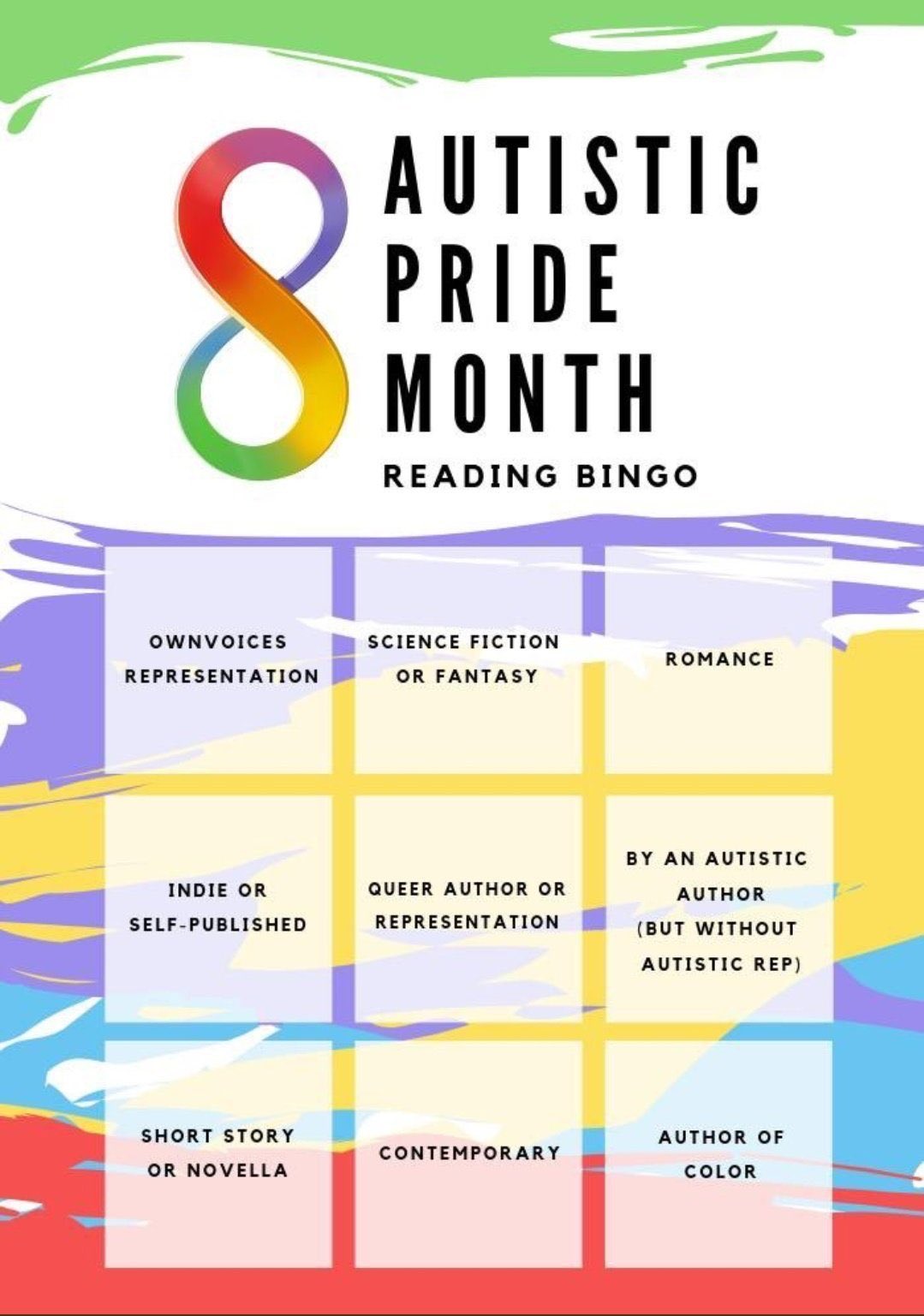 The Place Inside the Storm-Indie or Self Published and SciFi
It's 2038. Tara Rivers is fourteen years old, socially awkward, and a bit rebellious. Her family has recently moved to Los Angeles from the Pacific Northwest 'rogue' clusters. Tara feels alone and confused. She doesn't have any friends here, except her cat, Xel, a sophisticated robot with artificial intelligence. She knows she should try to make friends but the social rules other kids seem to understand without thinking don't come to her as easily. Without warning, the corporation where Tara's parents work makes an offer they can't refuse. They tell Tara's parents she is autistic. They want to put an implant in Tara's brain to 'cure' her autism so she can fit in with the corporate culture. If her parents refuse, their jobs will be in jeopardy. Tara overhears her parents speaking with the doctors and decides to run away with Xel. She plans to head back to the Pacific Northwest and her grandmother, but first she must escape Los Angeles and the corporation–with all their high-tech locating devices–dodge street gangs and wild dogs, and traverse an unknown wilderness full of unimaginable dangers. Will she ever find a place where she is accepted for who and what she is, or is she doomed to be an outcast from society forever?
Amazon: The Place Inside the Storm
The Many Mysteries of the Finkle Family Contemporary and OwnVoices
When twelve-year-old Lara Finkel starts her very own detective agency, FIASCCO (Finkel Investigation Agency Solving Consequential Crimes Only), she does not want her sister, Caroline, involved. She and Caroline don't have to do everything together. But Caroline won't give up, and when she brings Lara the firm's first mystery, Lara relents, and the questions start piling up.
 
But Lara and Caroline's truce doesn't last for long. Caroline normally uses her tablet to talk, but now she's busily texting a new friend. Lara can't figure out what the two of them are up to, but it can't be good. And Caroline doesn't like Lara's snooping—she's supposed to be solving other people's crimes, not spying on Caroline! As FIASCCO and the Finkel family mysteries spin out of control, can Caroline and Lara find a way to be friends again?
Amazon: The Many Mysteries of the Finkle Family
Lupe Wong Won't Dance- Author of Color
Lupe Wong is going to be the first female pitcher in the Major Leagues.
She's also championed causes her whole young life. Some worthy…like expanding the options for race on school tests beyond just a few bubbles. And some not so much…like complaining to the BBC about the length between Doctor Who seasons.
Lupe needs an A in all her classes in order to meet her favorite pitcher, Fu Li Hernandez, who's Chinacan/Mexinese just like her. So when the horror that is square dancing rears its head in gym? Obviously, she's not gonna let that slide.
Unbroken by Marieke Nijkamp (I kinda switched out a short story for an anthology) Short Story and Queer Rep (Editor is Queer?)
This anthology explores disability in fictional tales told from the viewpoint of disabled characters, written by disabled creators. With stories in various genres about first loves, friendship, war, travel, and more, Unbroken will offer today's teen readers a glimpse into the lives of disabled people in the past, present, and future.
The contributing authors are award-winners, bestsellers, and newcomers including Kody Keplinger, Kristine Wyllys, Francisco X. Stork, William Alexander, Corinne Duyvis, Marieke Nijkamp, Dhonielle Clayton, Heidi Heilig, Katherine Locke, Karuna Riazi, Kayla Whaley, Keah Brown, and Fox Benwell. Each author identifies as disabled along a physical, mental, or neurodiverse axis—and their characters reflect this diversity
The Queens of Geek-Queer Rep/Romance
Charlie likes to stand out. She's a vlogger and actress promoting her first movie at SupaCon, and this is her chance to show fans she's over her public breakup with co-star Reese Ryan. When internet-famous cool-girl actress Alyssa Huntington arrives as a surprise guest, it seems Charlie's long-time crush on her isn't as one-sided as she thought.
Taylor likes to blend in. Her brain is wired differently, making her fear change. And there's one thing in her life she knows will never change her friendship with her best guy friend Jamie—no matter how much she may secretly want it to. But when she hears about a fan contest for her favorite fandom, she starts to rethink her rules on playing it safe.
The Falconer By An Autistic Author but with no autistic rep/fantasy
Edinburgh, 1844. Beautiful Aileana Kameron only looks the part of an aristocratic young lady. In fact, she's spent the year since her mother died developing her ability to sense the presence of Sithichean, a faery race bent on slaughtering humans. She has a secret mission: to destroy the faery who murdered her mother. But when she learns she's a Falconer, the last in a line of female warriors and the sole hope of preventing a powerful faery population from massacring all of humanity, her quest for revenge gets a whole lot more complicated. The first volume of a trilogy from an exciting new voice in young adult fantasy, this electrifying thriller blends romance and action with steampunk technology and Scottish lore in a deliciously addictive read.