I'm probably a mood reader. But there are certain things coming out in January I'm excited about. I'm trying to include as many #OwnVoices pieces as possible. Special thanks to Book Birds for their list of January 2020 releases.
1)
Brave. Black. First.: 50+ African American Women Who Changed the World
Published in partnership with curators from the Smithsonian National Museum of African American History and Culture. This book is also sold as a series of postcards. It highlights important Black women who have shaped American culture.
Cheryl Willis Hudson is vice president and editorial director of Just Us Books, an independent publisher of black-interest books for children and young adults.
Erin K. Robinson is a Black illustrator based in Brooklyn. You can find her at brooklyndolly.com
The book is out on January 7th.
2)
Diana: Princess of the Amazons
A cute graphic novel take on Wonder Woman by some of my favorite authors Shannon Hale and Dean Hale. Diana is the only kid on an island full of adults, she's mostly happy with her life, but she'd really like a friend her own age. Will her attempts to make a new friend cause more trouble than she expected?
Illustrated by Victoria Ying who is an author and artist living in Los Angeles, and has done work on Disney films including Frozen, Wreck-it Ralph and Moana.
Out on January 7th.
Amazon: Diana Princess of the Amazons
3) The Oldest Student:
How Mary Walker Learned to Read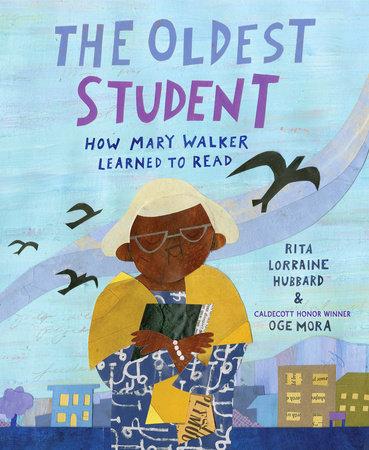 This picture book covers the life of Mary Walker, who learned to read at the age of 116.
The author Rita Lorraine Hubbard is the author of a number of nonfiction books for young adults and runs the children's book review site Picture Book Depot. She also runs the historical site The Black History Channel.
The illustrator Oge Mora has been honored for her work with 2019 Caldecott Honor Book for her book, Thank You Omu. The book also won 2019, Coretta Scott King/John Steptoe New Talent Illustrator Award.
Amazon: The Oldest Student:How Mary Walker Learned to Read
Out January 7th.
4)
Scavenge the Stars
This gender-swapped retelling of The Count of Monte Cristo sounds super interesting. After being held captive for years on a debtor's ship all Amaya wants is revenge against the man who ruined her family and destroyed the life she once had. When she rescues a man from drowning, he offers Amaya a chance at a new identity and revenge, but the path to her revenge is more complicated than it seems, and she must figure out who she can trust, or if she can trust anyone at all?
Tara Sim is a YA author who is based in the Bay Area.
Out January 7th.
5)
Stella Diaz Never Gives Up
The next book in the Stella Diaz series, after Stella Diaz Has Something to Say Stella Diaz is a shy Mexican-American girl who is excited to take her family vacation to Mexico. She's most excited to see the sea-life, but after she sees the state of the ocean, she realizes she has to do something to help.
But what can she do? She knows it will be a lot of hard work, but with lots of help from new and old friends, she will find a way to help, because Stella Diaz never gives up.
From award-winning author Mexican American author, Angela Dominguez.
Out January 20th.
Amazon: Stella Diaz Never Gives Up
What are you guys excited for this January?